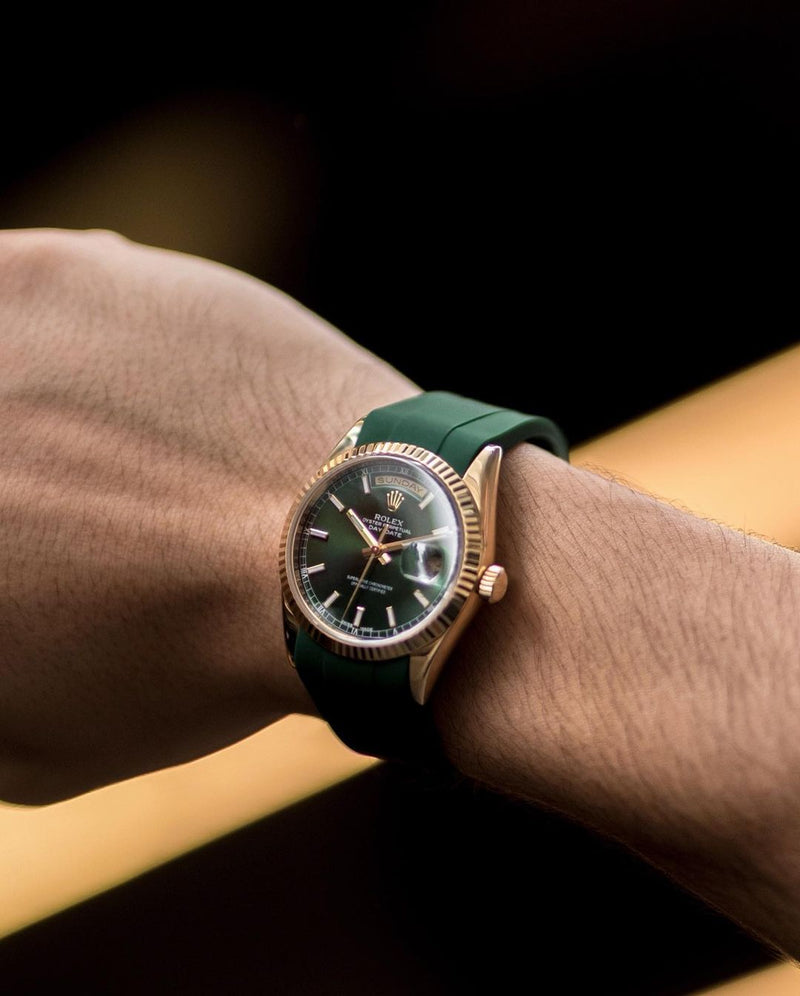 Top 5 Small Dial Watches for Men to Consider
Sometimes one of the most challenging things to do in watch collecting is finding a watch to fit your wrists. While some are blessed with big wrists that can handle watches of every size, the same cannot be said for everyone. Of course, not all of our wrists are like Arnold Schwarzenneger or Sylvestre Stallone's, who can both easily strap on any Panerai of their choice and call it a day. As a result, some of us need to be more careful about the watches we pick and how big their case and dial are. So, we'd like to explore 5 of the best watches men can choose from that are a bit on the smaller side while offering everything that a luxury watch is meant to have. 
Rolex Explorer 36mm
Kicking off our list is perhaps one of the most iconic field watches on the market, the Rolex Explorer. Beginning life as a watch born to traverse mountain ranges, the Explorer was always a little on the bigger side as per its legibility requirements as a sports watch, with a 36mm case from the very start. In the early 1950s, its 36mm diameter was quite large, but it never got larger until the 39mm ref. 214670 was launched in 2010, which was then discontinued in 2021 and replaced by the Explorer ref. 124670, which reintroduced the 36mm case to the Explorer's family. Perfectly suited for modern watch collecting with its stunning black dial, robust 36mm construction, and flip-lock clasp, the Explorer ref. 124670 is easily amongst the best small dial watches for men with its integrity as a true luxury sports watch left unchallenged. 
Rolex Datejust 36mm
Another iconic timepiece for men to consider if they don't want to wear a large watch is the Rolex Datejust in its original 36mm configuration. Originally launched in 1945 as a 36mm timepiece, it was also rather large for its time and so remained unchanged until 2009. While the larger 41mm variant was launched 2009 as the Datejust II, the 36mm variant never left production and so is one of the most iconic and longstanding silhouettes within watchmaking. Perfectly balanced after decades of its production, the 36mm Rolex Datejust is one of the best watches on the market that a man can consider if they want a timepiece that is both, iconic and fitted with the very best in what Rolex has to offer. Sporty when it needs to be, always classy, and perfect for any occasion, the Datejust can go anywhere and do anything.
Rolex Day-Date 36mm
In the very same vein as the Rolex Datejust 36mm, the Rolex Day-Date is another timepiece that entered production as a 36mm variant that has gone relatively unchanged since. While 40mm and 41mm variants have come and gone, the 36mm variant is the most classical, traditional, and unwavering, with its production stemming back to the Day-Date's first reference, the ref. 6510. Perfectly sized just like the Datejust, the Day-Date is Rolex's flagship timepiece and takes the Datejust's classical aesthetic and makes it that bit more formal and exclusive. Where the Explorer takes the Datejust's design and makes it sportier, the Day-Date goes in the other direction to create a timepiece that is fit for presidents, royalty, and diplomats alike. 
Tudor Black Bay 36mm
Breaking away from Rolex but staying within the family, we have one of the most popular timepieces on the market today, the Tudor Black Bay. Launched in 2012, the Black Bay marked Tudor's re-emergence in the arena of dive watches. Built to last, the Black Bay is an incredibly robust and capable dive watch that blends a stainless steel construction with a sophisticated aesthetic that achieves total harmony as a timepiece that can fly under the radar or be dressed up with a strap to create a timepiece that has a unique flair and personality. Offered in a range of sizes, the 36mm variant is a wonderful option for anyone that wants to break away from the hulking timepieces we see time and time again.
Cartier Tank
Moving on from the Rolex group, we explore the famed French jeweler and watchmaker that is Cartier. While pretty much all of Cartier's timepieces are more than capable of making this list due to their penchant for using smaller dials and case designs than most other watchmakers, the Cartier Tank wins out as the perfect watch for anyone that wants to wear a smaller dial. Offered in a selection of sizes from smaller than 22mm wide to larger than 31mm wide, the Tank has it all. An iconic design on account of its unique rectangular profile, long history, and stunning good looks, the Tank is perhaps the perfect timepiece for the gentleman who wants a luxurious watch that will look great in a smaller configuration. Thanks to its rectangular profile, the Tank looks incredible as a smaller watch, and can be worn with incredible ease no matter the wrist size of its owner.