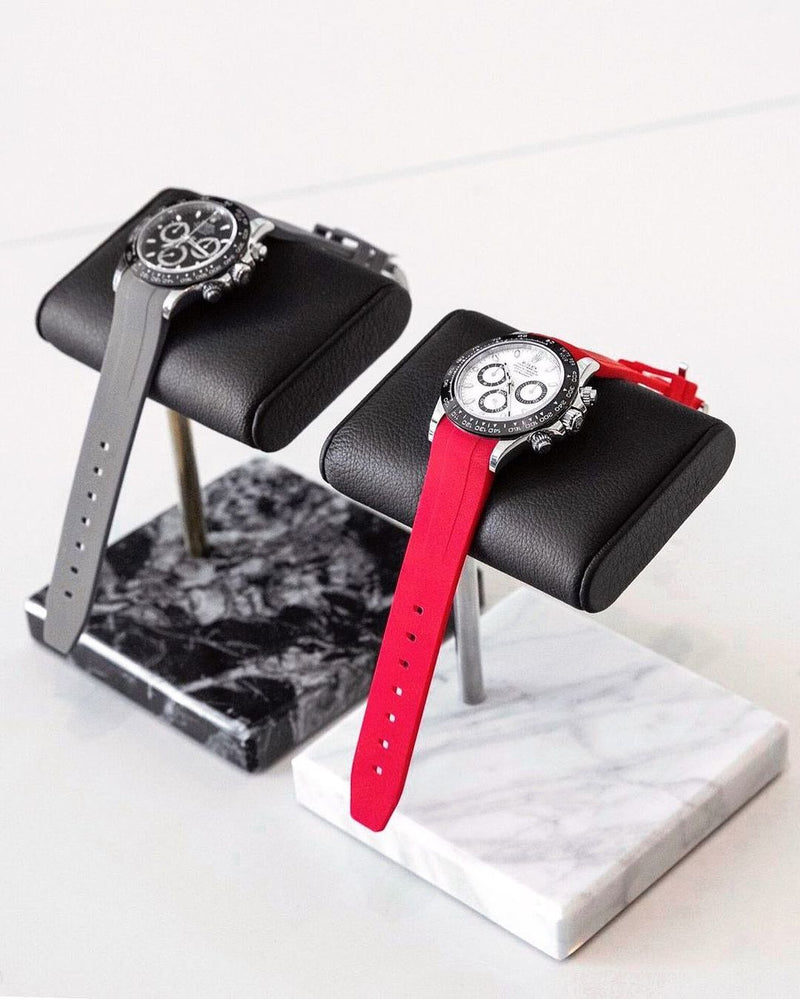 Four Luxury Christmas Gift Ideas for Someone Who Has Everything
It might only seem like 2021 just began for most of us around the world thanks to the craziness we've all experienced, but the truth is that it's almost Christmas already! So, have you thought about what you'll get that watch lover in your life? Generally, when someone is into a hobby, your first port of call is to get them a gift that is as closely linked to that hobby as possible, so a watch for a watch lover; it makes sense, but that doesn't have to be the way.
Horology is a wide-ranging interest, and there are a plethora of avenues you can explore when getting a Christmas gift for that special someone who already has everything this holiday season. For example, they might have all the watches they want but do they have everything listed below? Have a look and find out!
Watch Stands
While just placing a watch down on a table, nightstand, countertop, or whatever else might seem perfectly ok, it is actually the cause of a lot of the scratches that build upon a watch bracelet, case and leave it susceptible to other kinds of damage. One way to avoid this is to place your watch back into the safety of its original presentation box every night once you take your watch off, but that isn't exactly convenient, so what else can we do to store our watches? Place them on a watch stand! 
Luxury watch stands made of soft materials with large solid bases are a great way to store your watch overnight or during the day if you are working at your desk and don't want to pick up desk diving scratches on your watch clasp. Acting as the perfect pedestal to protect and present your timepiece, a luxury watch stand is the perfect gift to get that special watch lover in your life, and they probably don't have one at the minute since they are a relatively young product in the watch industry. 
Watch Winders
While watch stands are incredibly elegant, convenient, and safe places to store your watch, they fail to wind automatic watches, which isn't exactly a surprise. As such, what should someone that has an extensive collection of automatic watches do if they don't want to have to go through the rigmarole of winding their watch for the day every morning? Use a watch winder, of course!
Watch winders are a great way to keep your automatic watches stored if you want to avoid having to rewind and reset them after a period of wearing other watches. The ultimate in timepiece convenience and watch storage, watch winders allow you to enjoy your timepiece immediately after putting it on without the need to wind and set it. 
While they are convenient for a lot of watch owners, they are also crucial for owners of complicated watches such as annual calendars, perpetual calendars, moon phases, celestial displays, and the like. This is because they remove the laborious process of resetting these complications, which can take quite a while and often needs special tools and risks causing extensive, costly damage to the watch if done incorrectly. 
Watch Boxes
Moving away from the convenience of watch stands and watch winders, some watch collectors need a place to store their collection of watches that isn't the original presentation boxes their watches were sold with. Whether it is due to the inconvenience of selecting a watch when you have to open several different presentation boxes to see what watch you fancy for the day or how much space they take up, a lot of watch collectors need one place to store their watches for more extended periods of time, as such, watch boxes are a great way to do that.
Like watch rolls, watch boxes can be a short, medium, or long-term watch storage solution with some pros and cons. For example, while they can typically store more watches than watch rolls, they are larger and cannot be stowed away as easily, like in a nightstand, desk, or suitcase while traveling. However, should you want to store all of your watches together safely, the watch box definitely comes out ahead of just about every other form of watch storage.
Valet Trays
Our last gift idea is something that watch collectors have discovered in recent years to be quite convenient, stylish, and useful, the humble valet tray. Designed as a means to store the contents of your pockets, valet trays will keep your keys, wallet, phone, watch, glasses, and other everyday items safe in one place for as long as you need. Perfect for the work desk, bedside locker, or just about anywhere, valet trays are an often overlooked gift idea that not many people have, but make a big difference for those that do.
If you're still stuck for gift ideas, check out our other gift idea article here for more suggestions!