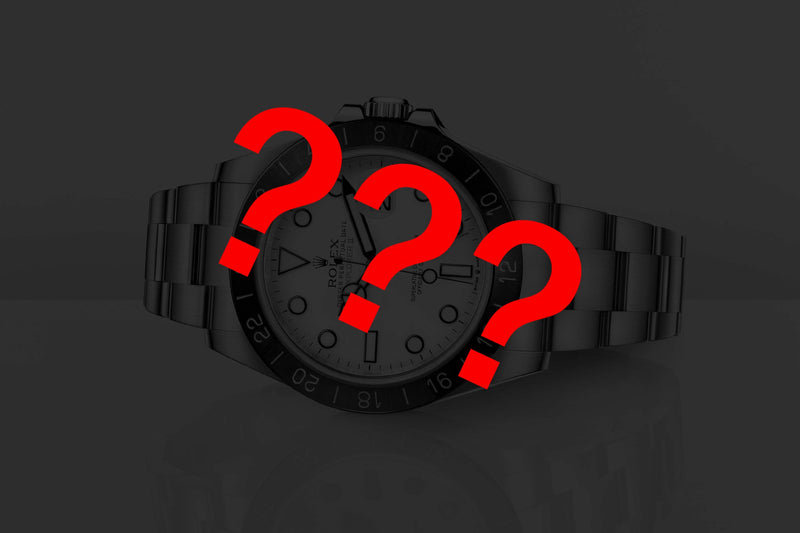 What will the new 2021 Rolex Novelties look like?
Introduction
Discussing the potential new Rolex watches so soon after last year's certainly feels strange, but after the agonizing wait caused by COVID last year, it's nice not to have to wait so long again. Still riding high from 2020's releases, we're very excited to see what the new Rolex watches for 2021 will be. Like every year, the watch community has been predicting, 'leaking' and guessing what Rolex will reveal on the 7th of April, so let's explore what we will likely see and what some people are saying we will see.
New Explorer II
Starting 2021's predictions off with the one novelty that has been widely accepted as the guaranteed addition this year, the Rolex Explorer II ref. 226570. We will almost definitely see the discontinuation of the Rolex Explorer II ref. 216570 in both dial configurations and see a new variant introduced to take its place, most likely the ref. 226570. With the model's 10-year long production run from 2011 and its 50th anniversary falling on this year, an updated Explorer II is pretty much guaranteed as its last-gen movement requires changing and its 50th anniversary requires celebrating. 
Like most things in life, it is anyone's guess how this model will look. Some people think the new Explorer II ref. 226570 will have a Daytona-style fixed ceramic bezel, while others believe it will keep its signature steel bezel – something unchanged in its 50-year existence. Furthermore, people have been unable to predict what dial options it will have. As with Rolex tradition, their anniversary models usually feature green somewhere, so the new Explorer II probably will to some capacity, but where will it be? Will it have a green dial or just a green GMT hand with a green 'Explorer II' inscription, or will it feature a green fixed ceramic bezel and keep its two current dial option? Realistically, its new movement, the cal. 3287 will be a larger version of the cal. 3285 that currently exists in the GMT-Master II collection.
Daytona Leaks Galore
As always, we've had many hoaxes this year with potential watch releases, and the Rolex Daytona has been subject to quite a lot of them. Sweeping Instagram a few weeks ago, we had a picture of a new blue ceramic bezel stainless steel Rolex Daytona with blue subdials. While that would be insanely cool (and look incredible on a blue camo strap, if you don't mind us saying), it was confirmed as a fake by its creator a few days after its release and following pandemonium.
Before that picture overtook Instagram and went viral amongst the watch community, other supposed new Rolex Daytona renderings also made their way around. With one claiming the Daytona was being given a more significant 42mm case, new movement and vintage-inspired dials, the communities sentiment was pretty clear; the Daytona wears small and needs a new movement. However, the Daytona's movement is still ahead of most of Rolex's competition and probably won't change for a few more years. The Daytona turns 60 in 2023, so if the Daytona gets a new movement, new dial, and a new larger case, it will probably be then, but who knows. 
Platona gets the boot?
Famed for its heft, color and exclusivity, platinum is regarded as the most desirable material for watches to be made from. With Rolex's putting a larger emphasis on their precious metal offerings, the rumors around platinum's place within their arsenal have been growing. Starting with the 50th-anniversary platinum Daytona, the Platona, people are beginning to think it will be discontinued. Released eight years ago in 2013, the Platona has been around a while and will need to make room for another platinum sports model soon. Most commonly touted as its replacement is a new platinum variant of the Submariner. Dial and bezel color options are up in the air. After all, the Platona certainly surprised us all, but the new 2021 Rolex Submariner would likely feature Rolex's famed platinum-exclusive ice blue dial and be VIP-only.
The Usual Suspects
The two models that are constantly rumored to be discontinued also happen to be some of Rolex's less popular sports models, the Air-King and Milgauss. Lacking in popularity due to their entry-level status and dull dial and bezel choices, both models seem to need to be either updated or discontinued. While the Z-Blue Milgauss is an interesting watch with a superb design, the Milgauss collection is a far cry from the industry-leading anti-magnetic beast that it was back in the day. While discontinuation would be a bit extreme, Rolex does need to up the Milgauss' specs in order to bring new life to this iconic model. 
Furthermore, the current generation Air-King features a dial that Rolex designed for a vehicle that failed to set a new land speed record. That vehicle, the Bloodhound LSR, is currently up for sale as the project fell bankrupt. We can assume that Rolex will want to disassociate themselves from the Bloodhound project and update the Air-King. Will either of these updates happen amongst Rolex's new 2021 watches? It's tough to say. They have been spoken about for a few years now, and nothing has happened, but it will eventually. 
Out-there Predictions
While what we have discussed above isn't guaranteed by any means, it has logical merit to the thought process behind it. As watch collectors, logic doesn't always prevail, so what might Rolex for 2021 that is entirely left-field?
 For a start, a new Rolex GMT-Master II featuring a black and red cerachrom "Coke" bezel with a white gold construction and on an oyster bracelet might be something Rolex could spring on us in 2021. A bit like how the white gold Pepsi was sprung on us a few years back, it would come before the stainless steel coke on a jubilee bracelet that everyone has been asking for. There have also been rumors of a coke bezel Tudor BB58 GMT coming out this year. Now, that would be insane!
 Another pretty out there update would be the discontinuation of the current Oyster Perpetual dials. Reminiscent of the Stella dials from the 70s, these colorful dials have been an instant hit and are already beginning to pick up discontinuation rumors. Would Rolex discontinue dial options so soon after releasing them? Probably not, but who knows.
Finally, the Yachtmaster II collection hasn't seen any significant updates since 2013, when the blue bezel stainless steel variant was released. As Rolex has been introducing the Oysterflex bracelet to their precious metal sports offerings, a new Oysterflex YMII precious metal variant would be pretty in line with what they have been releasing the past few years, namely last year's Oysterflex Sky-Dweller collection.
Conclusion
It's always hard to predict what the new Rolex watches will look like, but with a bit of luck we will get some great new models to put our names down for. With only a few days until the big reveal, its an exciting time for us watch nerds, but rest assured, no matter what the new 2021 Rolex watches are, we'll have a selection of straps available for them in no time!