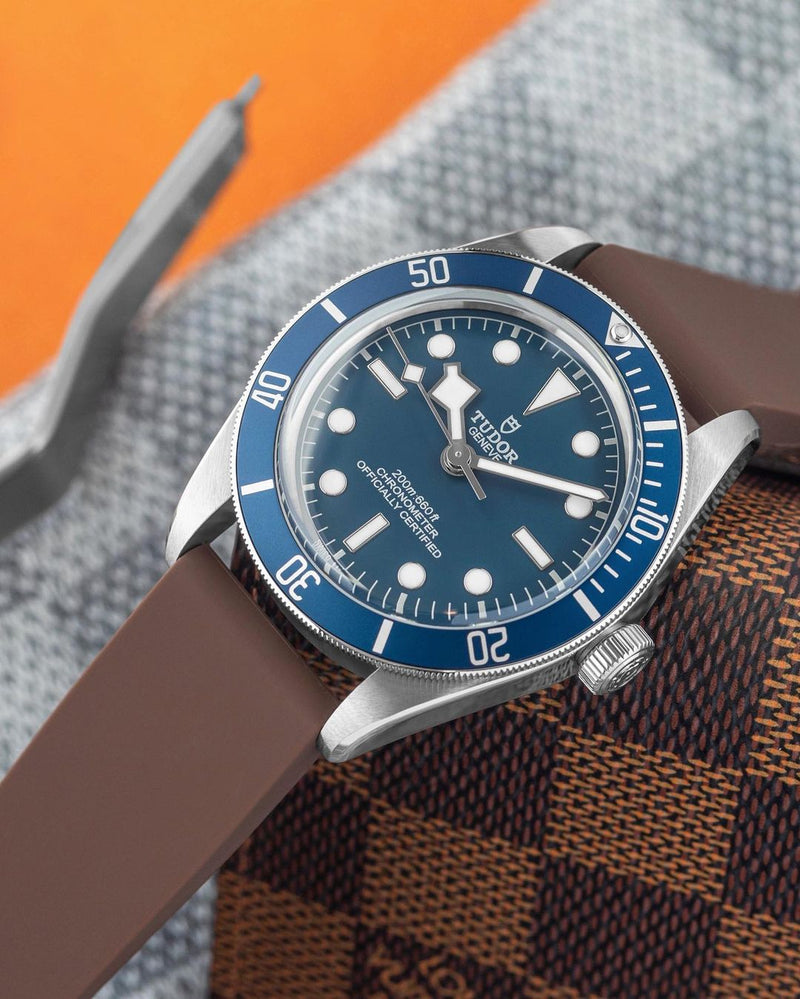 Tudor Black Bay vs. Black Bay 58 Compared
Today famed as one of the best watchmakers on the planet for their given price range, Tudor have grown from their position as just Rolex's sister brand to stand out as one of horology's best watchmakers. However, amongst their plethora of iconic models, one watch, by far, stands out as their most important, at least in a modern context, the Black Bay.
Today hosting a wide selection of variants, the Black Bay is Tudor's hero product, with two of their best-known models hailing from the family, the original Black Bay, and the Black Bay 58, its younger sibling. Both sports watches in their own right; let's compare the two models and see what they're all about. 
Launched in 2012 at Baselworld, the Tudor Black Bay is a powerful reminder of the watchmaking industry's love of nostalgia. Based on 1958's somewhat experimental and now rather iconic Tudor Submariner ref. 7924, the Black Bay is a modern yet grounded interpretation of the earlier Submariner models, which were related to the Rolex model sharing the same name. Featuring several different variants, the collection offers basic time-only models, dive watch models, GMT models, and chronograph models.
A remarkable testament to what a modern sports watch should be, the Black Bay marries functional design with useful capabilities in a manner that has no doubt contributed to its success as an offering for over a decade now. 
With most of its design language inspired by the earlier mid-century Submariners, the Black Bay sports period-correct functions and traits. In essence, the Black Bay is a timepiece that blends everyday functionality and utility with historical design and modern watchmaking excellence.
The Black Bay, its Design Language and Inspiration
Functionally and aesthetically speaking, the Tudor Black Bay is designed to be a dive watch, much like the Submariner ref. 7924 that inspired it. Several pieces of its design language, both functional and aesthetic, can be attributed to its offering as a dive watch. 
One of the most visually striking aspects of the Black Bay's design is its pronounced crown due to its lack of crown guards. Without a crown guard letting the case wrap around the crown, it seems more substantial than it is in reality. This is possibly the most obvious link between the Black Bay and its heritage-linked inspiration, as dive watches require large crowns to facilitate use during diving, with divers often wearing gloves underwater, making operating smaller crowns rather tricky.
The Black Bay also typically sports a uni-directional rotating dive bezel, depending on the variant, that ties most references from the collection together.
Another equally unifying element is the presence of Tudor's signature snowflake hands, which originated in 1969. While adding these seems counterintuitive to keeping the Black Bay period correct to the '50s design, this fusion of elements from various points within the Submariner's lineage makes the Black Bay its own modern design free from the shackles of history. 
With the original Black Bay, Tudor has perfectly encapsulated the watch community's keen eye for nostalgia as a point of leverage to allow the Black Bay to become a modern classic. Further entrenching the Black Bay within Tudor's arsenal, they expanded the collection with a new variant in 2018 that was a step away from the original collection.
The Black Bay 58 is Born
Debuting in 2018, the Tudor Black Bay 58 nods to the very same inspiration as its cousin Black Bay models, but with some changes that link it to its roots even more – specifically its dive watch heritage. First debuting as a black-on-black model with vintage-inspired gilt detailing and a comfortable construction, the BB58 was an immediate hit.
The Black Bay 58 ref. 79030N features several pieces of vintage timepiece design that are seldom seen in the industry today, such as the presence of gold bezel markings, gold dial inscriptions, and gold hour markers, which all feed off the gilt details that were popular during the 1950s and '60s.
Furthermore, the BB58 features a smaller case than most of its cousin Black Bay references. Measuring in at just 39mm in diameter and a rather restrained 12mm tall, the Black Bay ref. 79030N is more reminiscent of the timepieces commonly worn in the '50s. However, it is still a little large to be perfectly period correct. In truth, timepieces back then were far smaller than today, with 36mm being about as big as most people would wear.
Still, dive watches were typically the exception to this rule as they required larger dials and cases for greater underwater visibility and water resistance. As such, the Black Bay 58's 39mm case does fit in, with the original Black Bay's full-sized 41mm case seeming rather large by comparison.
As two final touches of heritage, Tudor also gave the Black Bay BB58's bracelet faux rivets along its polished sides and a heavily domed sapphire crystal, just like the original Submariner it is based on. Both aesthetic choices, they are reflective of the manufacturing methods of the '50s. Bracelet links were not solid pieces of milled steel or gold as they are now, but instead, hollow rings of metal held in place by rivets. Likewise, the crystals used were heavily domed pieces of acrylic, not the scratch-resistant sapphire crystals that spoil us today.
While 2020 saw the introduction of a blue dialed and bezeled Black Bay 58, the BB58 collection is still relatively tiny compared to the vastness of the original Black Bay collection with its array of complications, movements, colors, bezels, and materials. From bronze to two-tone to fixed steel bezels and a wide selection of colors and sizes, the original Black Bay collection is the place to go if you aren't entirely sure what you want, with the Black Bay 58 standing out as the collection to check out if you know exactly what you want.
Nonetheless, they are both exquisite watches that any collector would be proud to own and should certainly have in their collection at least once in their collecting journey.