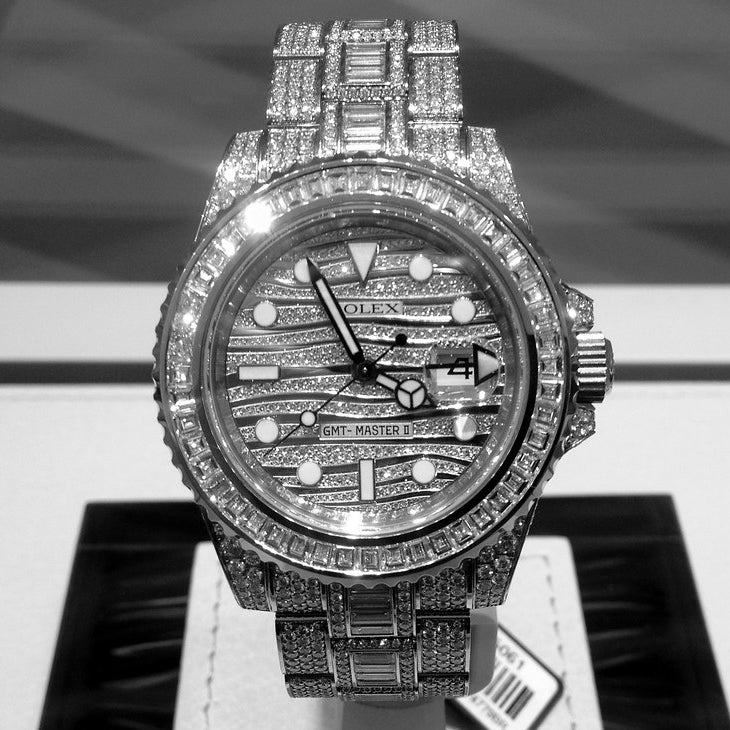 The Most Expensive vs. Cheapest Rolexes
It is widely accepted that Rolex is the most recognizable name in the luxury watch space. If you're new to the watch world, one of the first questions you'll likely ask is "how much is a Rolex?" . As a Rolex will cost you thousands of dollars, it's only natural to wonder just how expensive they can get. But how cheap can a Rolex get? You may be surprised to learn that Rolex models - graded on a wide variety of factors - can vary very drastically in price. Please note that all prices mentioned are current prices at the time this article is being written.
The Most Expensive Rolex Watches
Starting with the most expensive Rolex, we have the ultimate collector's piece, the vintage Rolex Daytona, specifically the Paul Newman Rolex Daytona. This particular Daytona is named after the Hollywood superstar that sported one for the majority of his life. While a regular vintage Paul Newman will set you back around $220,000 at the very least, they can sell for upwards of $700,000 depending on their condition, and if they come complete with the box and papers. These prices, however, pale in comparison to the price Paul Newman's own Paul Newman Rolex Daytona fetched at auction in 2017. Selling for a whopping $17,752,500, it was the second most expensive watch to have ever been sold at the time. This, by far, is the most expensive Rolex to have ever been sold.
A Paul Newman Daytona
We could get bogged down in the world of collector's pieces with excessive second hand market values, so let's take a look at the most expensive Rolex by list price. That watch belongs to one of Rolex's most famous collections, the GMT-Master II collection, and is known as the Rolex Ice. Looking at the Ice, it's clear why it's the most expensive Rolex you can buy. Covered in factory-set diamonds and made of 18kt white gold, the GMT-Master II Ice has a list price from Rolex of $485,350. 
The Rolex "Ice"
In the world of watches, Rolex watches are known to hold their value quite well. Since Rolex values often appreciate, re-sellers and grey market dealers buy sought-after models to sell them for a profit. There is a long waiting list for most sought after Rolex models - so, for most people, going to a Rolex boutique to purchase the watch is not an option. The Rolex model that comes with the most significant premium? Well, it happens to be a tie between the "Pepsi" bezel stainless steel GMT-Master II and the stainless steel, ceramic bezel Daytona. 
A Ceramic Rolex Daytona 
Both often sell unused through grey market dealers with a 70% or so premium. The second hand market has softened in recent months due to the global pandemic caused by COVID-19. These two watches are still the hardest to get your hands on, however. A Daytona on the grey market will set you back around $22,000 or more, almost a $9,000 increase from its $13,150 retail price. A Pepsi bezel GMT-Master II will set you back about $17,000, a nearly $8,000 increase on its $9,700 list price. 
The Cheapest Rolex Watches
Let's now take a look at the cheapest Rolex models. To start, we have the Rolex that some will argue is the best value out there - a vintage Rolex Datejust. With its 36mm case, the Datejust perfectly encapsulates the Rolex aesthetic that is so famous. A 1970s model Datejust will start at around $3,000, and a newer 90's model will cost about $4,000. While not technically the cheapest Rolex that you can get (the 1920s and 30's ladies watches for around $800 take that crown), a vintage Datejust is a great value when it comes to Rolex.
A typical Rolex Datejust
The cheapest Rolex, by 2020 list price, is the Oyster Perpetual. Priced at $5,700, the Oyster Perpetual comes as a time-only model, and is available with a range of dial colors to suit anyone's palette. This model earns bonus points as well, because unlike a lot of other stainless steel Rolex models, you can go into an authorized Rolex retailer and buy one without having to go on a wait list. 
A Rolex Oyster Perpetual
There are also some higher priced Rolex models that can be purchased at a discount. While Rolex doesn't technically give discounts, you can buy some unused watches on the grey market for significantly less than their retail price, such as the Yacht-Master II. The watch, in stainless steel form, has a list price of $18,750, but its grey-market value hovers at around $15,000.
A Rolex Yachtmaster II
An honorable mention in this article is also the Rolex Daytona two-tone in stainless steel & gold - reference numbers 16523, 116523, and 116503. These models sell anywhere from around $10,000 to $18,000 on the used market - considering this is less than an all stainless steel Daytona will cost you, it seems like somewhat of a bargain for a watch that looks nearly identical, and has gold components. To really take these models to the next level, add our black Rolex rubber strap - you now have a Daytona that looks very similar to the beautiful Everose Daytona, which will run you north of $28,000.
Rolex watches vary greatly in price depending on the material, complication, year (vintage or modern), and overall exclusivity of the piece. Rolex watches are known to be a solid investment, and prices have generally risen over time. Whether a Newman Daytona or an Oyster Perpetual, a Rolex is a Rolex and owning one is a special feeling.