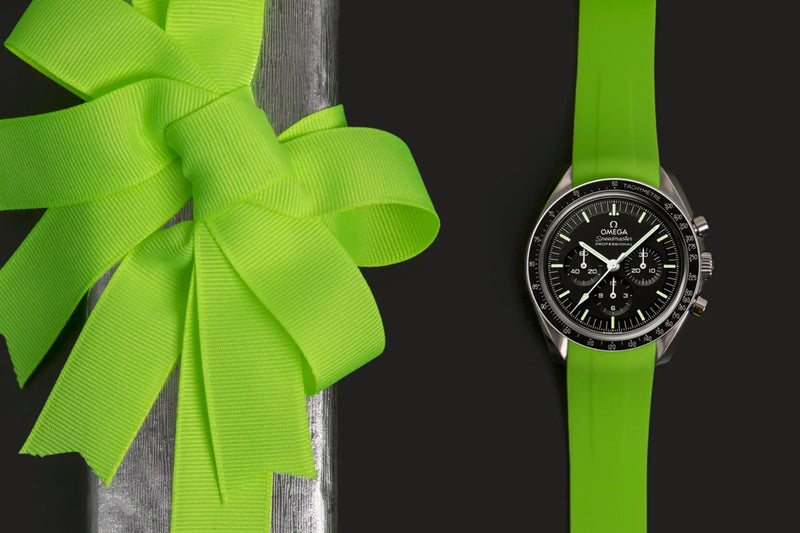 The Horus Straps Holiday Gift Guide
The holiday season is upon us, and it's finally time to start thinking about gifts for the watch lover in your life. While your mind might have immediately gone to watches themselves as a pretty natural gift to buy that watch lover, why not try watch straps instead? They are a fun and interactive way to alter the aesthetic of just about any timepiece that can be paired with the seasons, outfits, activities, and even your general mood. So, without further ado, let's dive into some watches and explore the sorts of straps that we would recommend for those watches. 
MoonSwatches
The Omega x Swatch Moonswatch burst onto the watchmaking scene early in 2022 and received perhaps the most fervent reaction that any watch has ever gotten. With mobs of people waiting in line for Swatch stores to open, every colorway quickly sold out. However, one common issue most collectors noticed with these watches is that their straps weren't nearly as colorful. As such, a Horus Strap is the perfect remedy. 
Starting with our Bordeaux strap, a classy deep shade of red, it is an exact match with the Mission to Pluto's red subdials and bezel. Similarly, our Corsa Jet Black & Grey strap is the perfect match for the Mission to Mercury and the Mission to the Moon and their monochromatic designs. While those two Moonswatches are almost entirely blacked out, the rest of the collection features bright and bold colors that are perfectly accentuated by our Jet black strap, the perfect backdrop for any of the Moonswatch variants out there. And finally, our Red & White Corsa strap, the perfect strap to accompany the Mission to Mars with its red and white design matching the Corsa's red construction and white stripe.
Rolex Daytona
The Rolex Daytona is a timepiece that every watch collector lusts after. With its iconic automotive heritage, timeless design, and its legendary reputation, it has always been the Rolex to have. However, even those who own one can still want to change the look of their Daytona from time to time, and our Corsa Jet Black & Red is the perfect fit. Inspired by horology's ties to the automotive industry and the embodiment of speed itself, our Corsa straps use a stripe through their center to add a dash of color that perfectly complements the Daytona's beautiful design.
Rolex Submariner
Off all the Rolex models produced over the decades, the Submariner has to be one of the most easily recognizable out there. With its timeless, ubiquitous design and sleek yet rugged aesthetic, it is able to tackle just about anything. However, that doesn't mean it can't be aided by a strap change.
Instead, our Forest Green strap is the perfect match for the Starbucks to match its green bezel, or add a splash of Starbucks to the all-black variants. Indeed, our Jet Black & Red Corsa strap adds a whole other dimension to its timeless design and really allow its owner to put their stamp on their watch. However, if you want to take things a step even further for your loved one, you can opt for a bundle of straps that would allow them to play around with their timepiece in a myriad of ways and transform their watch with a simple strap change.
Rolex GMT
The Rolex GMT-Master II has been one of Rolex's most popular collections since its debut in the mid-50s. Designed for pilots crossing timezones, its rotating bi-colored bezel added functionality with style and made it a popular choice for pilots and travelers alike. With its colorful aesthetic, the GMT-Master II makes for a fantastic option to personalize with different straps, much like our navy blue strap, which perfectly matches the "Batman" GMT variant with its black and blue bezel. Interestingly, Rolex have also produced an all-black variant of the GMT-Master II with green inscriptions and a green GMT hand, which our Forest Green strap is the perfect match for as it accentuates its subtle color and gives it true wrist presence.
Rolex Yacht-Master
The Yacht-Master is perhaps the best fusion of luxury and rugged sports watch design in Rolex's entire catalog. Designed as a more luxurious version of the Submariner, it is distinguished by a platinum bezel that adds an element of exclusivity to its aesthetic. Perhaps our favorite strap combo for the Yacht-Master is the rhodium dial variant paired with our Miami Blue strap, as it perfectly matches its light blue second hand and dial inscription.
Rolex Datejust
Viewed as one of Rolex's most traditional of offerings, the Datejust has defined Rolex's aesthetic since its launch in 1945. Throughout its history, it has gone through many design changes with different bezel materials and styles, different construction materials, dial options, and the like. Across the decades, one of the most popular variants has been a stainless steel construction with a fluted white gold bezel and an understated black dial. As a way of modernizing its aesthetic and playing to the subtle elegance of its black dial, we find a red Digi Camo strap can set the Datejust apart from the rest of Rolex's catalog. With its black and red undertones completely transforming the watch, the right strap can take the Datejust to places it has never been before.
Breitling
Known for their impressive tool watches that contain unparalleled wrist presence and a long list of functions, Breitling has grown to become one of the watch industry's most popular brands. Taking inspiration from the 1970s and launched in 2020 as an extension of those tenets was the Breitling Endurance Pro. Made of ultra-light Breitlight® case, an all-black and robust material 3.3 times lighter than titanium and 5.8 times lighter than stainless steel, the Endurance Pro's aesthetic is sleek and understated, which is perfectly complemented by our Camo options, with our Graphite Digi Camo matching its monochromatic design perfectly. In contrast, our Arctic White strap perfectly juxtaposes its blacked-out design, and adds to its already-significant wrist presence. 
Omega Speedmaster
The Omega Speedmaster needs no introduction. The watch that went to the Moon, it has been favoured by watch collectors for decades. Famed as a strap monster, it is a watch that can easily be paired with just about any strap and look incredible. Take, for example, our Arctic White, which stands out against its monochromatic aesthetic. Or, our Olive strap that adds a subtle pop of color. However, you can take things even further with our Digi Camo straps. You can opt for our Red Digi Camo and add a significant burst of personality and color, or our Graphite Digi Camo and match the Speedy's monochromatic design while still adding flair to your timepiece.
Patek Philippe Nautilus
Amongst all of the timepieces out there, the most sought-after in recent years has been the Nautilus, by a large margin. With its iconic octagonal porthole-inspired case, horizontally-embossed dial, and historical legacy, it is truly legendary. Of course, with such a reputation comes the need for its owners to be able to personalize their Nautilus and make it their own. As such, our new Nautilus collection of straps are the perfect gift option this holiday season. From a bundle option of several straps, your loved one can personalize their Nautilus however they may wish. Two fantastic selections are our Carbon Fiber strap, with its hyper-realistic carbon fiber print providing an understated and sleek aesthetic, and our Olive option providing a gentle burst of color to the Nautilus' luxurious construction. 
AP Royal Oak
Arguably one of the most recognizable watches in the world, the Royal Oak has become a watch synonymous with luxury ever since its debut turned the watchmaking industry on its head in 1972. Since then, its octagonal bezel, textured dial, and tonneau-shaped case have become some of the most popular design elements on the market. As such, it is important for Royal Oak owners to fit its aesthetic within their personal style, and our straps are the perfect thing to do exactly that. Take, for example, our Olive strap, with its gentle burst of green providing an understated pop of color that can elevate the Royal Oak's aesthetic to that of true luxury, particularly when paired with gold.
AP Royal Oak Offshore
Inspired by the Royal Oak's sporty design, the Royal Oak Offshore is AP's most rugged tool watch, and the pure embodiment of what it means for a luxury watchmaker to produce a capable sports watch. Since its debut in the early 1990s, the collection has featured a plethora of variants that span a variety of different colors, styles, and designs, thus making each variant a fantastic option to personalize with different straps. Its darker variants are a perfect fit for our Graphite Digi Camo strap, while its brighter variants are well-suited for stronger colors like our Red straps. Indeed, all of the Royal Oak Offshore variants are suited to a wide selection of our straps, and so our Bundle option will act as a great gift this holiday season.
Panerai Luminor
The watchmaker that started the strap-swapping craze, Panerai has built its brand on a small selection of designs, with the Luminor being both the most popular and recognizable. With its black dial, large cases, and iconic crown guard, the Luminor's design is synonymous with its passionate army of collectors that love to change straps. As such, all of our straps suit the Luminor's delightful design, with our Graphite Digi strap accentuating its monochromatic aesthetic, which our Arctic White strap contrasts, and our Forest Green adds a bright burst of color and intrigue to.
Apple Watch
A hotly contested topic in the world of watches, the Apple Watch is a tool watch like no other. Capable of doing more than any mechanical or quartz watch could ever dream of, the Apple Watch deserves a strap to fit its rounded square case. Of course, most Apple Watch wearers wear their watch every day, and so our bundle option is best suited to their needs. With several options, they can cycle through their straps and give their watch a different look as they please, depending on their outfit, or just how they are feeling. Another great option is our Arctic White strap, which adds a clean finish to the Apple Watch's bright display and dark case.
Hublot
The brand that put the rubber strap on the map with their "Art of Fusion," Hublot, has always been one of the most experimental watchmakers around. With their recognizable aesthetic and consistent design language, simply changing the strap on an Hublot can completely transform its entire aura. For example, our Red Strap adds a bright flair to the Big Bang ref. 301.SB.131.RX's carbon fiber dial that perfectly suits its subtle red accents. Furthermore, our Snow Camo strap matches the multi-material construction of the Big Bang's steel and ceramic construction, with its white and grey matching the steel and its black matching the ceramic. With Hublot's affinity to play around with materials and colors, it provides Hublot collectors with an incredibly large selection of strap options that they can choose from to take their watch to the next level. 
Tag Heuer
Best-known for their automotive-inspired chronographs, TAG Heuer's legacy is perhaps best defined by powerful timepieces that combine interesting designs with useful complications. Perectly fitting within that framework is the TAG Heuer Monaco, and the TAG Heuer Carrera, both designed for automotive racing. With its signature blue dial, the Monaco makes for the perfect watch to pair with our Ocean Digi Camo, and the Carrera, with its black dial makes for the perfect watch to wear with our Red Digi Camo.
Watch Travel Case
While the gift of a watch strap is something that every watch collector will certainly enjoy and cherish, the gift of a travel case is often something that most collectors will actually require more, from a practicality standpoint. In collaboration with Foundwell, we have designed a Horus x Foundwell Watch Travel Case that acts to stylishly protect whatever timepiece is placed inside its padded camouflage suede interior. Featuring a black leather exterior and offered in three colorways, Ocean Camo, Red Camo, and Graphite Camo, our hand-made Watch Travel Cases will protect your loved one's timepieces in the manner that they deserve.