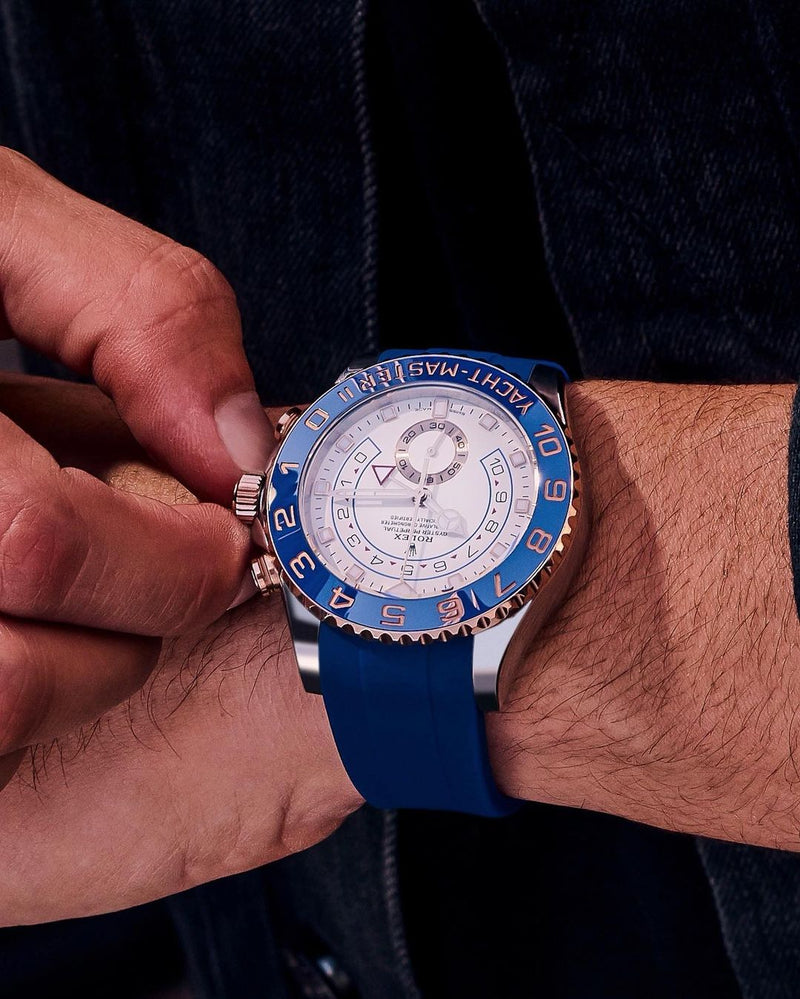 The Guide to Big Face Watches
The world of watches is filled with timepieces of all sizes. That's not a surprise to anyone, or at least it shouldn't be. From dainty cocktail watches measuring in at 20mm in diameter to 55mm behemoths, the horology industry has you covered, but how is it as simple as just finding the watch you want and strapping it onto your wrist? For big watches, not exactly.
So, here is a guide to big face watches and things you should look out for if you've found a watch with a large dial that you would like to wear and enjoy. 
Dial to Case Ratio
In watchmaking, the term "face" can sometimes be a vague catch-all term. It can either refer specifically to the dial or the entire front of the watch – think of it like everything you see when you look down directly on the watch from above; the dial, bezel, lug hoods, and everything else included. For large-faced watches, the ratio between the dial and the rest of the visible case from that top-down view can often impact the watch's aesthetic entirely.
While large watches are usually fitted with large dials, sometimes dials can be left a little on the small size, so it is important to try a big-faced watch on in person so you can best determine if the dial is in proportion to the rest of the case. Whether you like the look of a small dial on a large watch, or vice versa, it's always advisable to see the watch in the metal. 
Furthermore, generally speaking, it is more aesthetically pleasing for the dial to appear large for the watch that it is in, rather than for it to look too small. Of course, this is a personal preference, but brands usually make the dial fit the case perfectly or look too big. Sure, some watches have dials that appear too small, but they are rarer than watches with dials that could be considered too big. Generally speaking though, try to consider the size of the dial in the case and if it looks correct and suitable for your tastes. 
Busy Dials vs. Naked Dials
Another point to mention about dial design is the utilization of space within the dial itself. Empty dials can appear vast and make a large watch appear even larger. Busy dials, on the other hand, can make the watch appear a little smaller as the inscriptions, indices, displays, and various other pieces of information are all closer together. As such, if you want to wear a watch with a large dial, but want to make it look a bit smaller, or even just want whatever sized watch you are wearing to look smaller, make sure it has a busy dial. 
The Breitling Navitimer is the perfect example. Its dial is incredibly busy, and thus its 45mm case looks that bit more manageable than a 44mm Panerai Luminor, which typically has a sparsely filled dial. That isn't to say we don't love the Panerai, but they are more easily worn by collectors with large wrists for this exact reason, even if the cases are similar sizes. 
Bright colors vs. Dark colors
On a similar note, dial color can profoundly impact the aesthetic of a watch and its entire look on your wrist. Bright dials will appear more prominent as they reflect more light than a dark dial, which will appear smaller. As women will famously say, black is a slimming color, and the same principle applies to watch dials and watch faces.
If you want to wear a large watch but want it to appear smaller, choose a watch with a dark dial. It doesn't have to be black, but the darker it is, the smaller it will look. Similarly, choose a watch with a bright dial if you want to wear a small watch and make it appear larger. It doesn't have to be bright white or silver, but like with how dark dials work, the brighter the dial, the larger it will appear. 
Also, material colors can impact how large a watch appears. Black cases will appear smaller than bright materials like white gold. Dial finishes can also impact the brightness of a dial, with matte, brushed, and sand-blasted dials capturing more light and thus making them appear smaller. Conversely, highly reflective dials such as glossy finishes and sunburst finishes will make a dial appear larger.
Bracelet Designs and Case Shapes
Finally, one of the last but most important aspects of a large watch face is the bracelet or strap it is attached to, and the overall case shape. Not all watch shapes and designs are equal, with rectangular and tonneau cases wearing larger than round cases. Similarly, integrated bracelets make watches appear larger than a traditional bracelet, which will make a watch appear more significant than a rubber or leather strap.
Furthermore, things like bezels can also play a role in how large a dial appears. If the bezel is thick, it could overcrowd the dial, or if it is small, it could make the dial appear larger and thus make the entire watch face look either larger or smaller than it is. 
As such, think of your goal regarding how you want the watch to look on your wrist, and select the case and bracelet design you want. If you want the watch to look smaller than it is, a round watch on a rubber or leather strap is best. If you want the watch to appear larger, a tonneau-shaped case with an integrated bracelet is best, like the AP Royal Oak. 
With all of that said, large watch faces and whether you want to enjoy wearing watches with large faces is solely up to you. Unfortunately, not everyone has the luxury of being able to wear whatever sized watch they want, so if you are one of the lucky few, experiment with as many dial types, dial colors, bracelet, and case designs as you physically can. You'll develop a rich knowledge of what you do and don't like and what looks the best and worst on your wrists, and your watch collection will be all the better for it.