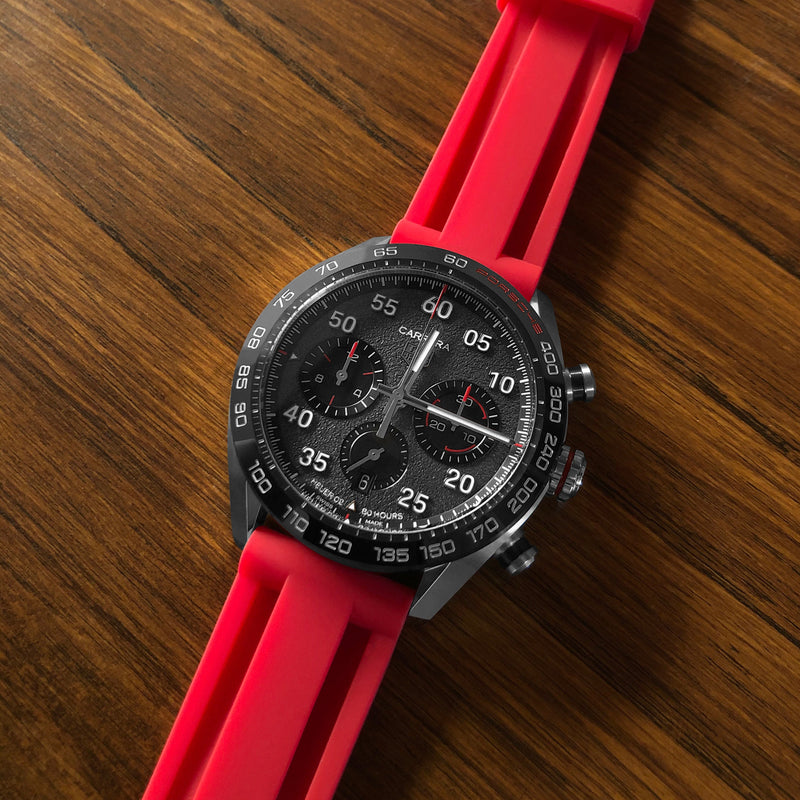 TAG Heuer x Porsche - The Perfect Motorsport-Inspired Timepiece?
Within the realm of horology, there lie several industries that harbor incredibly close relationships with watchmakers across the globe. Amongst these industries, you will find things like diving, space exploration, aviation, and so on. While they have all had their own impact on horology to varying degrees, few, if any, have had the same impact on horology as motorsport, with their avid love affair beginning as soon as motorsport took off in the late 19th century. Come to think of it; it's not exactly a surprise. Speed is all well and good, but you need to be able to measure it. 
It is helpful for timing laps, figuring out average speeds, and so on; the mechanical timepiece has had its place within motorsport for as long as people have been behind the wheel. With the money behind each industry, it is no surprise that collaborations between watchmakers and automobile manufacturers would occur as these brands seek the best chance to acquire a competitive advantage. 
Heuer and Motorsport
Of all the brands within modern horology, very few are as closely linked to motorsports as Heuer, the predecessor company to TAG Heuer. With motorsports becoming more popular as the cars taking part in races got faster, Heuer saw the opportunity in being associated with the growing phenomenon. With that idea, Heuer began to produce the dashboard instruments that would be placed within race cars. From there, Heuer slowly began to release wristwatches in the 1950s and 1960s that would spark their golden era as they became one of the most sought-after watchmakers involved in the motorsport space.
With such iconic models as the Heuer Monaco, made famous by Steve McQueen, who wore it in the 1971 movie Le Mans (in which he drove a Porsche 917), the Autavia, inspired by the instrument dials mentioned earlier, and the Carrera one of the purest chronograph designs within the industry, Heuer's chronographs have been legendary within motorsport for a very long time. Today, the Carrera stands as one of TAG Heuer's flagship chronograph models, and as such, it served as the perfect foundation for TAG and Porsche to collaborate on a design together.
TAG Heuer x Porsche
The sport of car racing has long been dominated by a select group of car manufacturers, with Porsche amongst the very best. Today operating as one of the most prestigious luxury sports car manufacturers in the world, they have taken their success from motorsports and deviated into the consumer market, where they release showstopper after showstopper. Both brands have motorsports in their veins, and a strategic partnership between them was a no-brainer, especially considering that they had worked together on the TAG Turbo Engine which won McLaren three consecutive F1 titles (1984 – 1986). A match made in heaven, we will no doubt see some incredible watches arise from the collaboration for years to come, so let's dive into the watch we have here, the TAG HEUER CARRERA PORSCHE CHRONOGRAPH SPECIAL EDITION ref. CBN2A1F.FC6492
The Watch Itself
As one would expect, a watch that is the result of two brands with a shared history in motorsport would indeed feature a motorsport-inspired design, and this watch is no different. A modern TAG Heuer Carrera at heart, this timepiece features one of TAG Heuer's most advanced chronograph movements yet, their cal. HEUER 02. An automatic in-house chronograph movement, the HEUER 02 features COSC certification, a column-wheel assembly, and an incredibly impressive 80-hour power reserve, which is 10-hours more than the Rolex Daytona's cal. 4130, so you know it's a serious movement. 
Of course, designed with motorsport in mind, the timepiece also features some aesthetics nods to its collaborators. Featuring a black ceramic tachymeter-inscribed bezel, the watch features Porsche's name between the 12 o'clock and 1 o'clock position, a less than subtle nod to the famous German brand. Furthermore, the timepiece also features a heavily texturized dial inspired by the asphalt found on a racetrack, but it doesn't end there. Perhaps the most subtle hint at Porsche's influence, the dial also features numerals marking 5-minute increments along the entire dial in Porsche's font. 
With its black and red color scheme, the watch speaks to the red lights that adorn the racing experience in the form of brake lights, stoplights, and rear lights found on cars all over the world. A fast-paced design for the fast-paced world of motorsport, this is a bold and sporty watch that is not afraid to push its aesthetic beyond what has conventionally been accepted as the norm and enter unchartered territory. Perhaps a metaphor for life and the inherent risks within motorsport, this is one timepiece that we love here at Horus Straps, and we hope you do too.