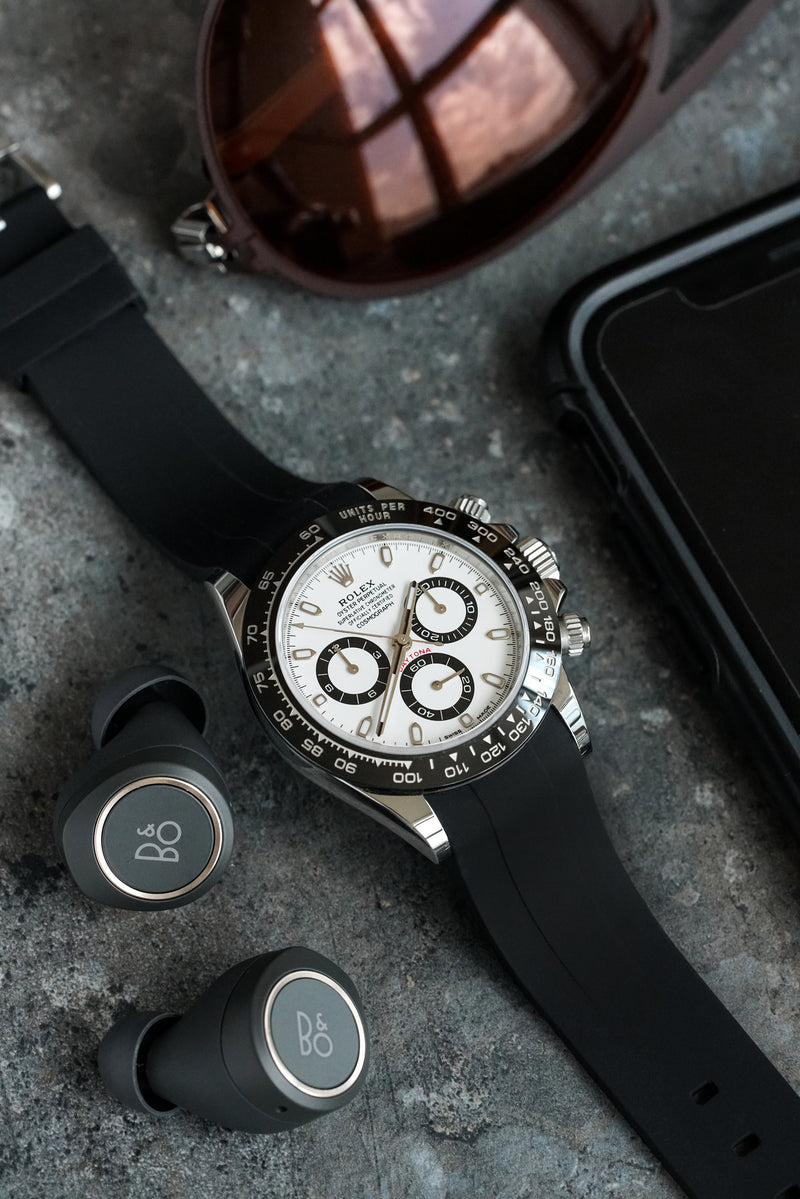 Rolex Straps vs. Bracelets
The mechanism we use to hold a watch to our wrist is an incredibly important consideration for watchmakers. In fact, watch straps and bracelets have often become a signature part of each brand's look. Rolex is no exception to this rule. Rolex has always strived to create incredible watch bracelets, from how they fit the case to how they close around our wrist. You can get an appreciation for this if you look into how Rolex has developed their designs over time. From their evolution of hollow links to rolled links and finally to solid links, or the recent release of their rubber strap, the Oysterflex strap, in 2015. Many Rolex bracelets - including the Jubilee bracelet and Oyster bracelet - have become a signature of Rolex style.
Rolex Straps vs. Bracelets 
While Rolex bracelets are famously stylish, rugged, and well-designed, they don't fit every situation. Rolex does also offer leather straps on some models, but having a leather strap limits when you can wear a watch. Most manufacturers would not recommend wearing a leather strap in saltwater, for example. 
Changing your OEM Rolex bracelet out for one of our Rolex straps is a great way to protect the bracelet from wear and tear. The bracelet is oftentimes the part of the watch that gets scratched the most, so by switching it out for a strap at times, you limit the amount the bracelet will get scratched. It also allows you to customize the look of your Rolex to better suit your personal tastes, needs and uses for the watch at a particular time.
With that in mind, here are some of our picks for alternative straps for Rolex watches, when you would want to wear them, and why.
The Best Alternatives for Rolex Straps
The first thing to consider when choosing a watch strap is the functionality of the strap you want to use for your Rolex. Different materials have different uses due to the natural properties of the material. The next thing to consider is the occasion for which you'll be wearing the watch. A day in the office calls for a different strap compared to a day at the beach, for example.
Rubber Watch Bands for Rolex
Rubber is excellent for getting wet – be it from the sea or from natural sweat. It's not going to get scratched when you use and abuse it, and ultimately, if you ever want to sell your watch in the future, protecting your original watch bracelet and keeping it in peak condition will maximize your return. Rubber watch straps are great during the warmer months of the year or during fitness-oriented activities where sweat or dirt might come in contact with your watch. A dirty Rolex bracelet isn't comfortable to wear, and rubber is incredibly easy to clean. A rubber strap also weighs far less than a bracelet - especially if your bracelet happens to be made of gold. 
Rubber watch straps are also slightly less formal than metal bracelets and leather straps, and so can be worn more casually as fashion accessories. Some great examples of how to use a rubber strap as a fashion piece would be putting our Blue Camo Rubber Strap on a Rolex Batman or our Black Rubber Strap on a black Submariner or Daytona - some of our most popular combinations. These combos are perfectly practical for watches like the GMT-Master II, Daytona and Submariner and highlight those world-famous bezels. The vast variety of rubber colors we offer ensure that you'll be able to match your watch to any outfit. 
Leather Watch Bands for Rolex 
Leathers and some alternative materials, such as carbon fiber, make for an excellent Rolex strap when the weather is colder, and things like water, sweat and wear and tear aren't as much an issue. Being that leather watch bands are looked upon as a dressier option, they're also great for a day at the office.
They can also really upgrade the look of your watch as an exotic leather makes a much bigger statement than a calfskin or suede strap is going to make, such as one of our ostrich leather straps or alligator leather straps. If you want to keep that more traditional and subtle look, a calfskin strap is for you. You can also look at things like stitching as a source of a subtle flash on leather and carbon fiber straps. A great example of using a carbon fiber strap to alter the look of a watch entirely would be by adding our Carbon Fiber Strap with Red Stitching to the Rolex Sea-Dweller, one of our more popular watch and strap combinations.
All in all, the watch straps we use help to make our watches suitable for a variety of different situations. They can also help define us as individuals by adding our own sense of personal style to watch designs that long pre-existed most of us.