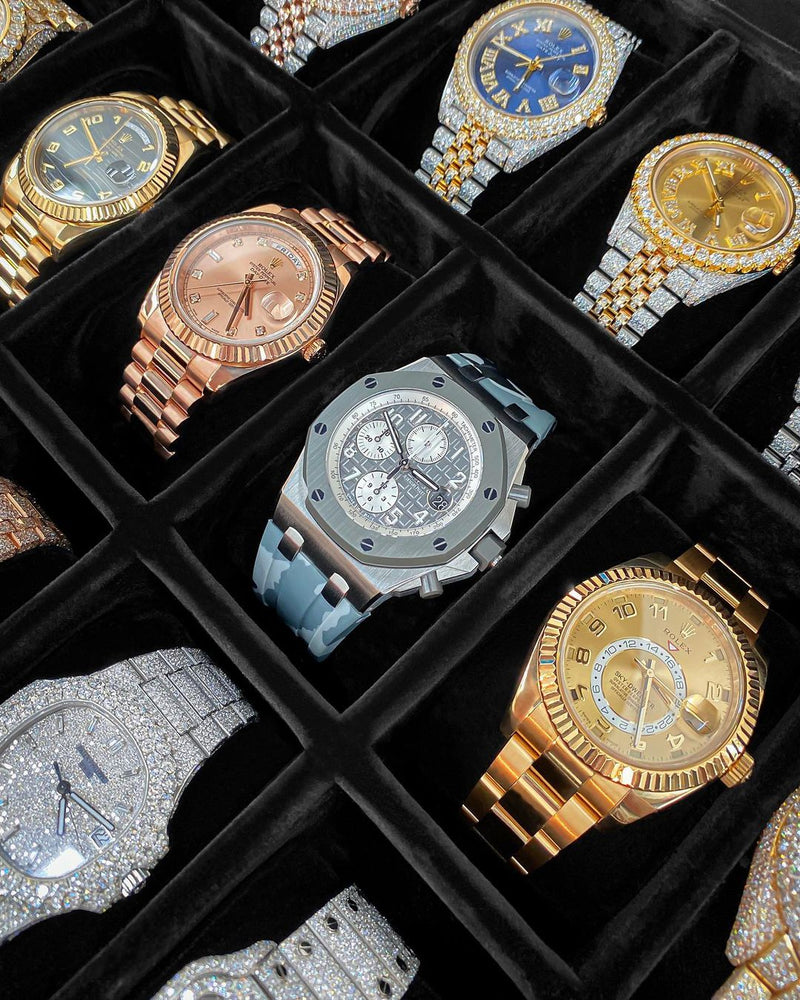 How to Score Hard-to-Find Watches
The journey of any watch collector is usually the same. We grow a small understanding of horology, get entwined in the history of the industry, fall in love with a small few brands and slowly fall down the rabbit hole as we begin to collect the watches that resonate with us, only for the rabbit hole to get bigger as we discover new brands and timepieces that capture out imagine with even more enthusiasm than the last. Perhaps one of the most entertaining parts of being a watch collector is hunting for your next watch. While it's always great to get what you want straight away, there is a lot to be said for the journey of discovery, so let's explore the main ways to score a hard-to-find watch.
Auctions
Perhaps one of the oldest and most traditional ways to source a hard-to-find timepiece is through an auction house.
- Online Auctions
With the power of the internet, it is very much a possibility that you can search sites that aggregate auction listings, or the websites of traditional auction houses to find what it is that you are looking for. While the online auction results you find might be old, and thus the watch was long-sold, the watch listing might have information that could help you regarding your search, such as the model name, reference number, brand, size, movement caliber, and so on. A treasure trove of information, scouring online auction websites, and catalogs from the past and present can be of great service in your search.
- Auction Houses
Linked to the online auctions are traditional auction houses, like Christie's, Phillips, Bonhams, Antiquorum, Sotheby's, etc. While they all certainly have online auction websites, these established houses typically offer a personal service in which they can use their extensive list of clients, market knowledge, relationships with industry contacts, and so on to find the watch that you are looking for, or anything else that you would like them to find you. While this service will cost you, if the watch is sufficiently rare and prone to being faked, it might be worth the money.
Online 
Breaking away from the legitimacy of auctions, we find ourselves in the minefield of online watch sales.
- Watch Dealers
Before we get into the nitty-gritty, online watch dealers work in much the same way as auction houses work with their private and personal sales service. Albeit, watch dealers have stock at all times and might be able to sell you a watch immediately. If the watch is hard to find, they might have to speak to other dealers and spend some time looking around for you, but ultimately if you use a reputable dealer, whether they are online or not, they will be able to find you any watch, for the most part.
- Third-Party Sites such as eBay & Chrono24
Staying on the theme of watch dealers, third-party websites can be a fantastic place to source a rare watch if you know what you are doing. While sites like Chrono24 and eBay are filled with legitimate private sellers and well-established dealers, they can sometimes be populated by opportunistic scammers or people selling what they think is a genuine watch that could very well end up being fake or a frankenwatch. Exercise caution if the watch you are searching for is particularly rare or expensive, and opt to use these sites as places to find information on a watch. Do your research as best as you can, and don't forget to 'buy the seller' and only make the purchase if you ffeel 100% safe. 
- Forums
In the exact same vein as how we ended the topic of third-party sites is how we will begin with watch forums. While filled with passionate enthusiasts that will sometimes sell their timepieces, forums operate entirely on trust. While third-party sites might offer an escrow service and so on, forums do no such thing. Only buy from established forum members and seek references, and have others that you can trust vouch for the potential seller. Besides the minefield that is buying over a watch forum, they are splendid places to learn about watches and connect with other like-minded individuals.
Local Sources
Moving off of the internet takes us to the wonders of our own locality. Of course, without the full far-reaching powers of the internet, the likelihood of finding something particularly special is much lower, but lady luck might sometimes be on your side.
- Authorized Dealers
Starting things off we have one of the primary sources of hard-to-find watches in any locality; the authorized dealers that might be near to you. While buying new watches from brands such as Patek Philippe, Rolex, and so on from them speaks for itself, they also often have a pre-owned section filled with watches taken in on trade from other customers against whatever new watches or jeweler they were buying. Granted, pre-owned watches from Authorized Dealers are often rather expensive compared to the market, but they can sometimes have a hidden gem that others might skip over. They also benefit from being 100% legitimized in terms of authenticity and originality (unless stated otherwise), which is another massive bonus.
-Thrift Stores, Charity Stores, and Garage Sales
Perhaps the least likely source of any rare and hard-to-find watch is a thrift store or garage sale, but it can happen. You'll need to be incredibly lucky and know what you are looking at, but sometimes it's worth popping in to see what they have. You never know what you might find. Lady luck might just be on your side.
- Private Sellers
Finally, we have local private sellers. Typically advertising their watches in local watch groups, buy and sell groups on social media and local sales websites like Craigslist etc., private sellers can be a bit of a risky source. As you can't be 100% certain that what you are looking at and being sold is genuine, it is good to bring the seller to a local watch dealer or jeweler and have them verify the watch for you. Of course, they will make you pay for this service, unless you are friends with them, but no matter what, it is worth the expense.