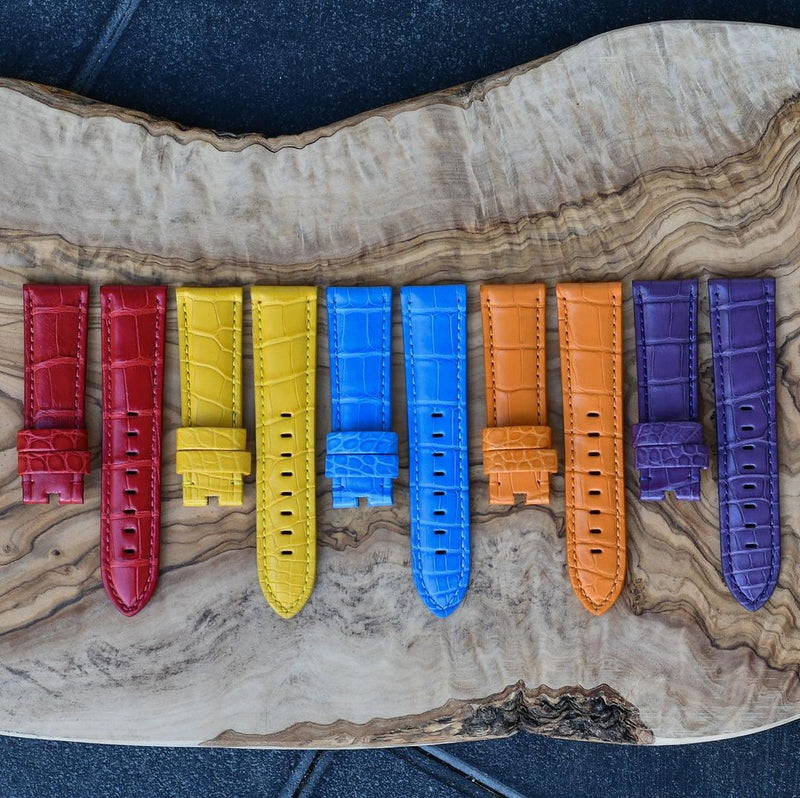 How to Clean a Leather Watch Strap
While wearing your favorite watch is incredibly fun, you always want to keep it in mind that your watch can get dirty, and as a piece of finely-tuned engineering, it performs and looks its best when it is clean, free from debris, and odorless. So, how should we keep our watches looking their best? By cleaning them, of course! We've already delved into how to polish your watch, and even how to clean a rubber strap, so now let's examine cleaning your leather watch straps.
What you will need:
Horus Straps Microfiber cloth x2
Gentle soap
Water
Dry Towel
Leather Conditioner
Step 1:
To get things started, you will have to remove your leather watch strap from your watch via whatever mechanism it uses. Some watches will use screw-in lug bars, like Panerai, some will use quick-release mechanisms, and some will use spring bars. We supply spring bar tools and screwdrivers specifically for removing watch straps if you do not have your own. Make sure the screwdriver is the right size to prevent scratching your case or stripping the screw.
Step 2:
With your leather watch straps freed from your watch case and the case put to one side, gently wipe the strap down with your dry microfiber cloth to remove large pieces of debris like sand, grit, or dust that could otherwise scratch the surface of your leather watch strap.
Step 3:
Next, wet your second microfiber cloth and add a small amount of some gentle soap that does not have a stripping compound to protect your leather band. Finally, wring out your microfiber cloth so that it is damp (not saturated) and has some lather from the soap on it.
Step 4: 
Next, gently rub the inside, outside, and sides of your leather watch strap in circular motions to clean it. Try not to let your leather band get too wet during this process, as it might cause damage to the strap.
Step 5:
Once your leather watch strap is clean, run your soapy microfibre cloth under cold water and wash out the soap. Then, wring the cloth out so that it is only damp, and once again clean the surface of your leather watch strap to remove the soap residue from the watch band's surface. 
Step 6:
After you have washed off the soap residue from your leather watch band, take your dry microfibre cloth or another towel if you have one, and pat it down. Once it is dry to the touch, let it sit out at room temperature and air dry naturally. Do NOT accelerate this process by heating the strap on a radiator, with a hairdryer, or anything else. Instead, let the strap dry as slowly as possible. This ensures the strap's structural integrity is not compromised, and its shape does not distort.
Step 7:
With your strap perfectly clean and dry, this step is optional but certainly recommended. Using a leather conditioner specifically for watches, jewelry, clothing, and accessories, dab the appropriate amount of product as stated on its packaging onto a dry microfibre cloth, gently rub it onto your leather watch strap and let it dry. Your watch band is not clean, dry, conditioned, and ready to go! Also, never forget that should you be in the market for a new leather watch strap, or rubber watch band, check out what we have in stock.
F.A.Q.
How Often Should I Clean My Leather Watch Strap?
This will most likely be determined by the weather, environment, and conditions that your watch is subjected to. For example, if you live somewhere dusty and hot, you should be wiping down your strap as often as possible to keep it dry from your sweat and free from larger debris. 
Under more temperate conditions, the watch strap cleaning process as laid out above should be performed about once every 2 to 4 weeks (except for Step 7 – read below), but play it by ear depending on how dirty it gets, how it smells, and how it looks. 
How Often Should I Condition My Leather Watch Strap?
This is tough to say in general as it will depend on the weather conditions you live in and the type of conditioner you use. Refer to the packaging of your conditioner for a specific timeframe, but it should not be too often.