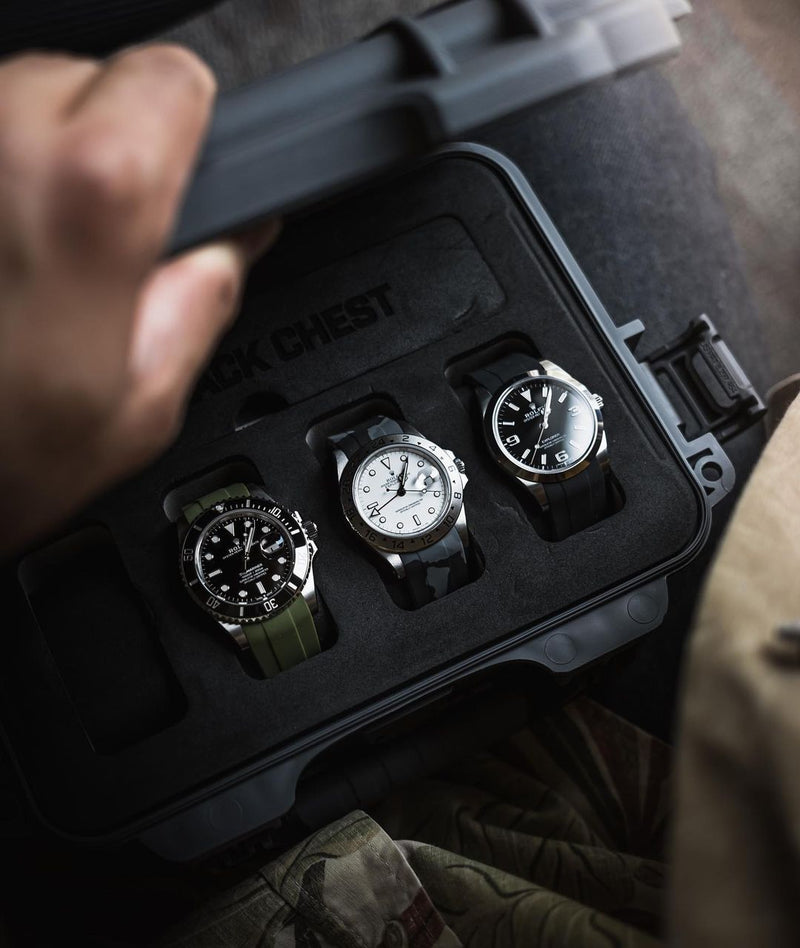 How to Build a Watch Collection
As anyone involved in the watch collecting hobby knows, collecting timepieces can be costly and challenging. While the money you spend on the watches you acquire and keep is undoubtedly going to be relatively high, the amount of money you spend on watches that you will ultimately let go from your collection will probably be just as high, if not higher. So, how do you mitigate that expenditure and build a watch collection as best as possible? Let's explore.
Find your aesthetic
The first step to collecting luxury watches is to discover an aesthetic that suits you and what fits in with your style, and just what you like the look of in general. With all of the different kinds of watches in the world, there are many aesthetics to look into. Typically this is easiest when you consider your watch a part of your personal style.
Do you wear vintage clothes? If so, a vintage watch might be the way you should play it. Likewise, if you wear sporty clothes, or formal clothes, a sports watch like the Daytona might suit, or a formal leather-strapped watch like the Cartier Tank or Patek Philippe Calatrava might be more up your street. Ultimately, you should match your luxury watch to your prevailing sense of style so that it doesn't stick out, and you can pair it with the largest number of outfits. Fundamentally, the watches that fit in with you and your personal brand are what you will feel the most comfortable wearing and thus provide you with a foundation to build a watch collection around. 
Find your size
Next up on the list is to discover the size of watch that you want to wear. Perhaps the biggest benefit of the recent years is that the size of luxury watches has trended downwards slightly, and men are free to wear smaller watches without the social pressure to wear hulking Breitlings and Panerais. Likewise, those who still want to wear those larger watches are free to do so. As such, you are free to pick the sizes that you like and not be pigeon-holed into a sizing category that matches your gender. 
You could consider your wrist size and determine what size of watch you should look into but don't base all of your decision on that single metric. Instead, figure out what feels good on your wrist. Do you like the watch, regardless of its size? Do you like its weight? Can you feel it slide up and down your arm? These are the questions you need to consider, not just that it fits within the traditional guidelines that are no longer adhered to by most watch collectors. Wear whatever size watch you want and are comfortable with.
Find your Color
Beyond your chosen aesthetic and size is perhaps one of the most interchangeable considerations to be made when looking into what watches you want to collect, the watch's color. This can manifest itself in several ways. The primary way is the color of the dial. The most popular luxury watch dial color options are blue, black, white, green, and gold – but you should select the color that best matches your most popular outfit choices, much in the same as the overall aesthetic of your watch. For example, if you wear a lot of blacks, then a black or white dial might suit you best. Likewise, if you wear a lot of navies, then blue or green might be best. Ultimately, if you are building a collection, then you should select a range of dial colors that will match with the outfits you are likely to wear. Don't go too outside of your comfort zone with too many of your watches, but do test the waters in order to expand your horizons. 
Beyond the dial color, another way for you to consider the color of the luxury watch that you want to buy is the color of the metal. Typically luxury watches are made of metal, and thus can be silver-tone, like platinum, white gold, or stainless steel, or gold-tone like rose gold, yellow gold, red gold, etc. So by considering the metals that you typically wear in your other jewelry, you can narrow down the sort of luxury watches you want to buy. In addition, of course, some watches can be made of other materials like black or white ceramic, a mix of colors like TPT from Richard Mille, and so on, but consider their case and bracelet/strap colors the same way you would consider their dials – do their colors match your outfits and your aesthetic?
Choose your Complications and History
Finally, once you have figured out the way you want your watch collection to look, figure out the other aspects of horology that are important to you. Do you favor a watch for its heritage and what it stands for? Do you want your watch to perform particular functions that fit in with your lifestyle? Do you want your watch to have a link to something you hold dear, like the military, a particular sport, or something else? If so, then these considerations are of paramount importance. For example, if you travel a lot and love diving as a pastime while you are on holiday, then a watch with a GMT function and a robust depth rating might be a good choice, like the Omega Planet-Ocean GMT. No matter your preferences, you should be able to find the perfect watch for whatever you have planned for it!