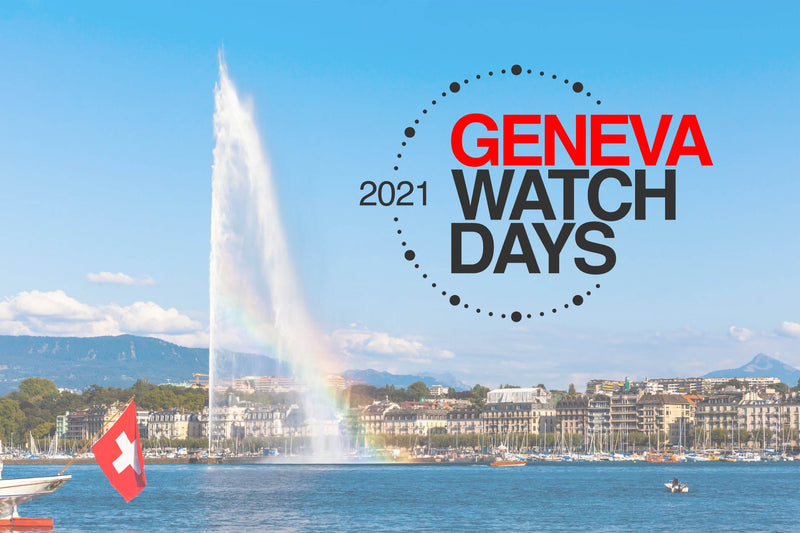 3 of our Favorite Watches from Geneva Watch Days 2021
It's been a tough few years for the humble tradeshow. From declining attendances, wavering support from brands, and a global pandemic, it has been a challenging time to put it lightly - not least of all last year and still now in 2021.
But, with the tradeshow wavering, we can still count on Baselworld, perhaps the most iconic and historically significant watch trade fair in the world, to organize something special so that we can see some new novelties in person, meet the people and teams behind the watches and get a feel for the weight of a watch in our hands once again. 
With that, Baselworld reintroduced their Geneva Watch Days concept this year with small events planned all across the city of Geneva in various venues such as brand boutiques, Authorised Dealer locations, hotels, and so on. With such an excellent opportunity to release some novelties, it would be a shame if some brands didn't bring out some new watches, and well - they delivered. Here is a rundown of our three favorite novelties from Geneva Watch Days 2021.
Breitling Top-Time Classic Cars
Coming into the form of their lives under CEO Georges Kern, Breitling have been releasing hit after hit after hit, and this time, Breitling have managed to do it again with one of the most Breitling-esque releases of the year. With motorsport flowing through their veins and on the back of a colorful year already, Breitling have revisited their heritage-themed formula to bring us their new Top-Time Classic Car Collection.
Three watches with three unique dials, these watches scream motorsport, and what better watch to use as your vehicle (pun intended) to showcase that love of all things automotive than the Top-Time? A motorsport-focuses chronograph marketed towards a younger audience, the Top-Time was a colorful watch with fun dials in the 1960s, and Breitling have revisited that aspect of the Top-Time to release a trio of new watches.
Each with their own distinctive dial, Breitling has assigned each watch a color and car, the Red model for the Corvette, blue for the Shelby Cobra, and green for Mustang. Not only are they color-codes, each watch even comes stamped with the car's insignia. The Corvette and Mustang both share a 42mm case with the automatic chronometer-certified Breitling cal. 25 beating away inside.
The Shelby Cobra comes as a more unisex offering with a smaller 40mm case and a different movement with the COSC-certified movement automatic Breitling cal. 41.
Three beautiful watches sharing a $5400 price tag and some scintillating dials, we can't help but dream of what these watches will look like on our Breitling rubber straps. But, alas, we'll have to wait and see. If you'd like more information, be sure to check them out here - they aren't limited, so don't worry about supply running dry! 
Oris Aquis Upcycle
Following on from their usual run of conservation-themed limited edition models, Oris have released a new model dubbed the Aquis Upcycle. Available in 36.5 and 41.5mm case sizes, the Aquis Upcycle is functionally and visually identical to any other Aquis out there except for one thing, its dial.
Made from recycled PET plastics, these dials are created using a process that ensures no two dials are identical and feature a plethora of colors, patterns and look spectacular. Certainly unique compared to the usual dials we see on the market, these dials also removed plastics from the sea (thanks to Oris partnering with Everwave and raise some much-needed awareness for the need to reduce, re-use, and recycle.
With 300m of water resistance, Oris' cal. 733 automatic movement, a design that has become a fan favorite and a favorable price of just $2300 for either model, we are sure that these watches will be a hit!
Czapek Antarctique Rattrapante Chronograph
No doubt everyone knows who Patek Philippe is, but does everyone know who founded the company? Well, a guy named Antoni Patek and another guy called Franciszek Czapek.
After the two men split, one went on to lead Patek Philippe into the direction they find themselves today, and another started his own separate brand named Czapek & Cie was reformed in 2012 following a long period of dormancy. No prizes if you guess who did what! While Czapek might be separate from Patek Philippe, they have indeed cashed in on the craze for integrated sports watches that the Patek Philippe Nautilus has helped to create with their model, the Antarctique.
This year at Geneva Watch Days, Czapek released the Antarctique Rattrapante Chronograph - a stunningly designed and incredibly complicated timepiece that we couldn't help but lust after. Featuring an incredible skeletonized dial, a stainless steel construction, and Czapek's unique integrated bracelet with its own quick-release system, the Antarctique Rattrapante Chronograph is just about as unusual as they come.
Showcasing its incredibly complex movement, the Czapek cal. SHX6 developed in collaboration with Chronode. This monopusher chronograph hits you at all angles with details galore from the dial side and from beneath with its exhibition caseback.
From its fine finishing to its incredible design, this timepiece is hard to take your eyes off and has to be considered as one of the finest watches to come out of Geneva Watch Days this year. Sure, a lot of other amazing watches were released, plenty of which haven't made this list; the Antarctique Rattrapante Chronograph adds a new level of sophistication to the integrated stainless steel sports watch that we can't ignore. But, limited to 77 pieces and priced at 46,000 CHF, it's already sold out. Check out Czapek's website here for more information though if you'd like to learn about it!